The existing landscape for the Pinehurst Project was dated and did not suit the clients' taste or lifestyle. As seen in the before photo below, the existing look was quite dated and lacked any focus. Our job was to modernise the look and shift the garden's focus points.


Panorama of project site before work commenced.
Site photographs, like the one above, were used to construct a virtual representation of the project in our 3D design platform. When the 3D model was completed, our design ideas were let loose. The final renders are an excellent tool for the client to visualise the end product and importantly, approve the design features.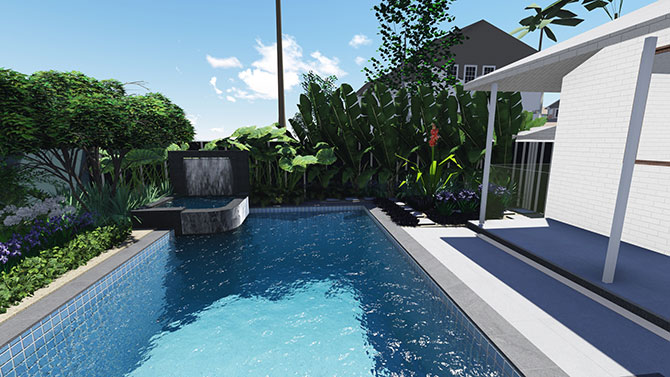 3D Render 001.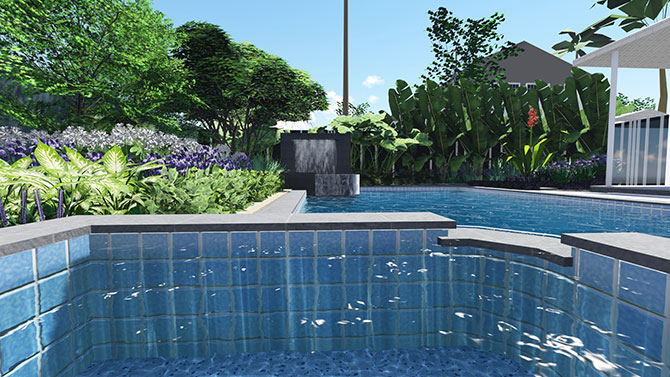 3D Render 002.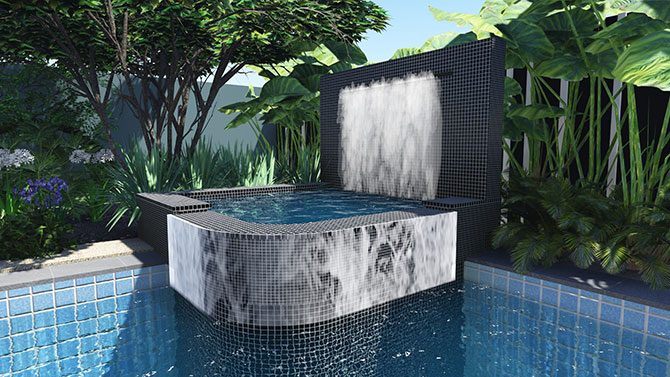 3D Render 003.
Our intention was to rotate the perspective and introduce a main feature, being the water feature spill blade. The 2 existing spas remained, one remained as functional and the other now acted as a secondary water feature as we rebated the edge wider to make the spill more dramatic.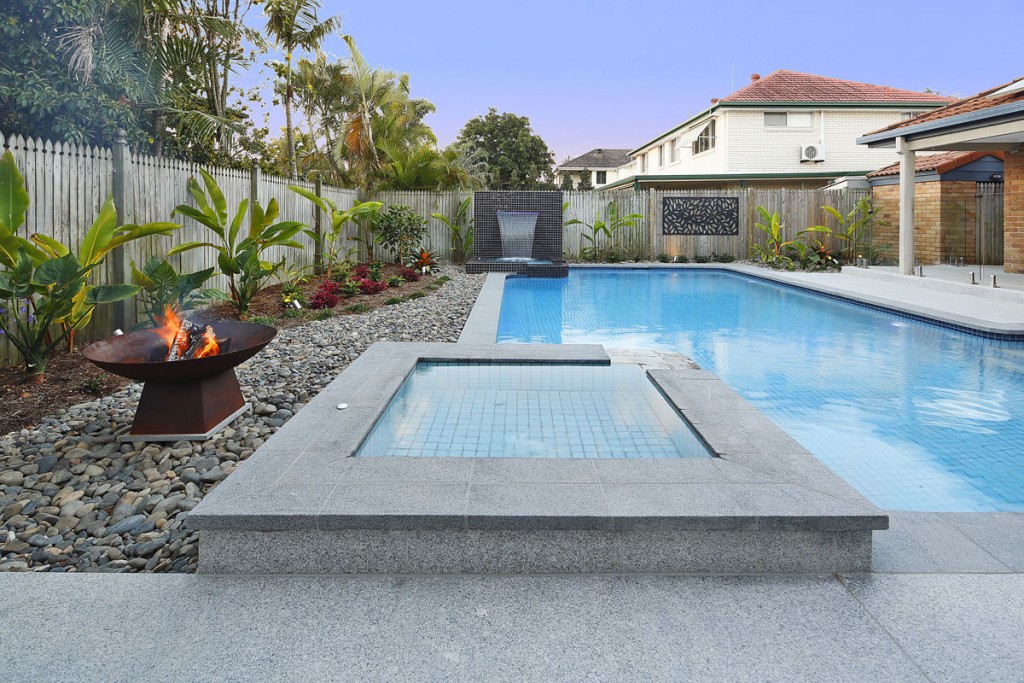 The tropical planting scheme included Heliconia Bihai and Variegated Alpinia Zerumbet which will form a stunning privacy screen enclosing the area in the future, we also added a cissus ellen Danica vine to eventually grow and cover the existing fence to create a living green wall around the laser cut panelling.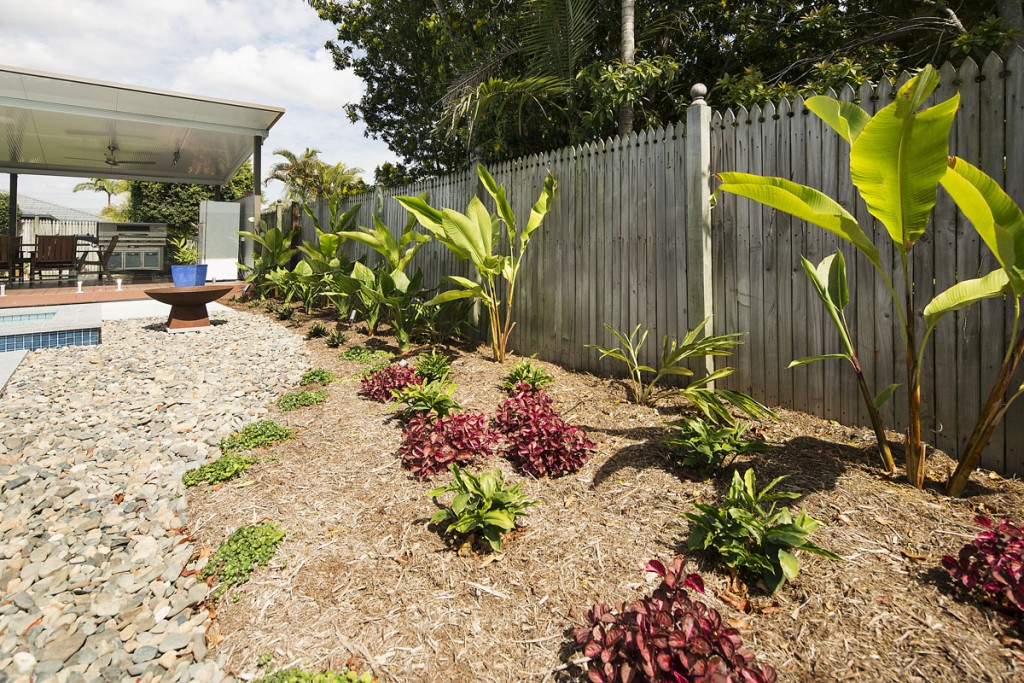 We installed a cascade river stone detail bed to the edge of the pool lined with fragrant cardamom gingers to add an aroma to the garden, the gravel has a sweeping form to ensure enough space to hold a firepit within the garden.( which was a high priority in this build haha) The little purple and white groundcover Viola hederacae will creep over the gravel and soften the edges eventually. The use of outdoor lighting was key to this design with highlights on feature plants and in key areas to make to area functional at all times.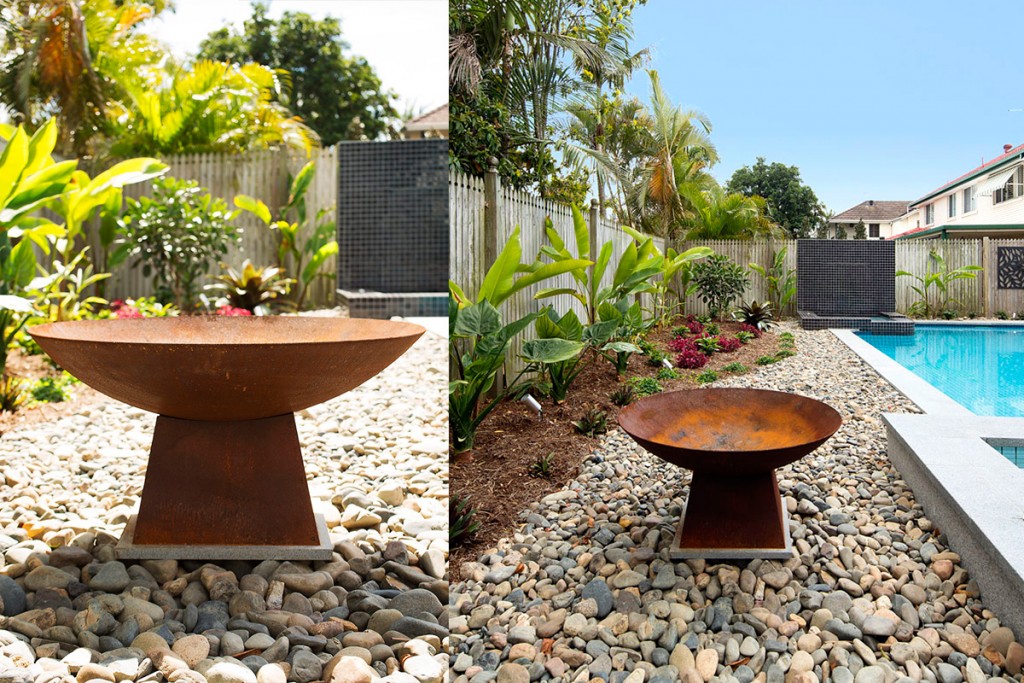 The pool coping and surround were upgraded using a 2 tone granite colour effect with slim line architectural drains to create a minimal look. Overall we and the client are delighted with the results and cant wait to see what 12 months of growth will yield. For more photos of the finished project, please visit our latest featured landscaping project.