Say Hello to My Little Friends
Some decide to create beautiful gardens, filled with all colours of the spectrum. Their gardens provide a quiet, relaxing atmosphere to enjoy the outdoors. However, there will come a point when your garden feels like it's missing something; something displaced when your house and land was originally developed. That something being the birds, butterflies and fluffy critters that have the potential to add a completely new dynamic to your garden.
Eco-friendly gardeners always keep in mind the trees and shrubs that attract the wildlife; the wildlife you'd want in your back yard that is! Such flora is not only for attracting birds. Beautiful natives, such as the grevillea, attract Rainbow Lorikeets (our personal favourite) from all directions. The Grevillea's gorgeous blooms are like candy to our native birds and animals. Acacias, Callistemons and some Eucalyptus also attract native fauna with the added benefit of garden shade, seasonal colour, and texture. Attracting birds to your garden has another benefit you may not have considered before. Birds will arrive for a sweet treat but won't turn down any other tasty morsels they find – insects that would otherwise be garden pests make a full course meal!
Your local native nursery will stock many trees that will give back to nature what development subtracts and in planting, you're contributing to your suburb's biodiversity. Here's a small selection of our favourites:-
Grevillea


The traditional, Red Grevillea (Grevillea banksii) has been superseded by smaller, more floriferous hybrids. Look for these warm climate varieties at your local nursery
Grevillea banksii var. fosteri
Grevillea 'Misty Pink'
Grevillea 'Moonlight'
Grevillea 'Poorinda Royal Mantle'
Grevillea 'Robyn Gordon'
Grevillea 'Honey Gem'
Grevillea 'Superb'
Golden Wattle (Acacia pycnantha)


The profuse fragrant, golden flowers appear in late winter and spring, followed by long seed pods. Plants are cross-pollinated by several species of honeyeater and thornbill.
Callistemons and Eucalypts


A selection of small to medium sized examples: Eucalyptus cosmophylla, Eucalyptus pauciflora, Eucalyptus pyriformis x macrocarpa, Callistemon citrinus, Callistemon pallidus, Callistemon salignus.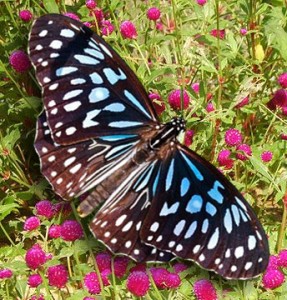 Butterflies like their flowers a bit closer to ground level. So if you want to add a vibrant, animated garden dynamic, butterfly attracting shrubs are the go. Shrubs are probably the most common plant types found in Brisbane gardens as many don't have space for tree plantings.
Butterfly attracting shrubs look fabulous as focal points, borders or clumped together with other plantings. When placed properly, they can add great texture contrast and seasonal colour. We've selected a few examples of Australian shrubs below that will attract butterflies to your gardens..
Dianella


Leaves are used to weave dillies and baskets by Indigenous Australians. Fruit range from very poisonous to sweet and nutty, so take care with the species you select.
Lomandra


Tufted deciduous perennials with long narrow blade-like leaves. Lomandra are as hardy as you can get. Once watered in and established, they look after themselves!
Gomphrena


The Gomphrena globosa is a must have for butterflies because it's nectar is suited to all species. Local nurseries will also have hybrids and cultivars in stock.
When you decide to help your garden to give back to Australia's little critters, Landscape Brisbane is at your disposal. Everything you need to know can be found right here – so don't be afraid to contact us, we don't bite.